Responding to Hate Crimes, Racism, and Antisemitism in Marin
A Community Conversation
Thank you to everyone who joined us for this important (and continuing) conversation. We are grateful for the voices and views shared at the Zoom table. This was a positive forum with brilliant thoughts and ideas on how to continue to move forward together to build a safer and inclusive community. We look forward to future community conversations on this and other important topics the affect our community.
DISCLAIMER- This video briefly contains offensive imagery depicting hate incidents.
Haga clic aquí para ver este video en español.
---
Lori E. Frugoli, Marin County District Attorney
Rabbi Susan Lieder, Senior Rabbi of Congregation Kol Shofar
Teveia Barnes Sankin, a Tiburon resident and member of Congregation Kol Shofar
Seth Brysk, Regional Director of the Andi-Defamation League
Alexandra Rosen, Fairfax Resident speaking on behalf of the Fairfax Racial Equity and Social Justice
Morgan Blum Schneider, Director of Jewish Family and Childrens's Services Holocaust Center
Patrice O'Neill, Founder of NOT IN OUR TOWN, Novato
Noah Griffin, Local resident,historian, and one of the leaders in changing the name of the Dixie School District
Craig D. Fair, Special Agent in Charge of Federal Bureau of Investigation-San Francisco Division

What is the difference between a Hate Crime and a Hate Incident?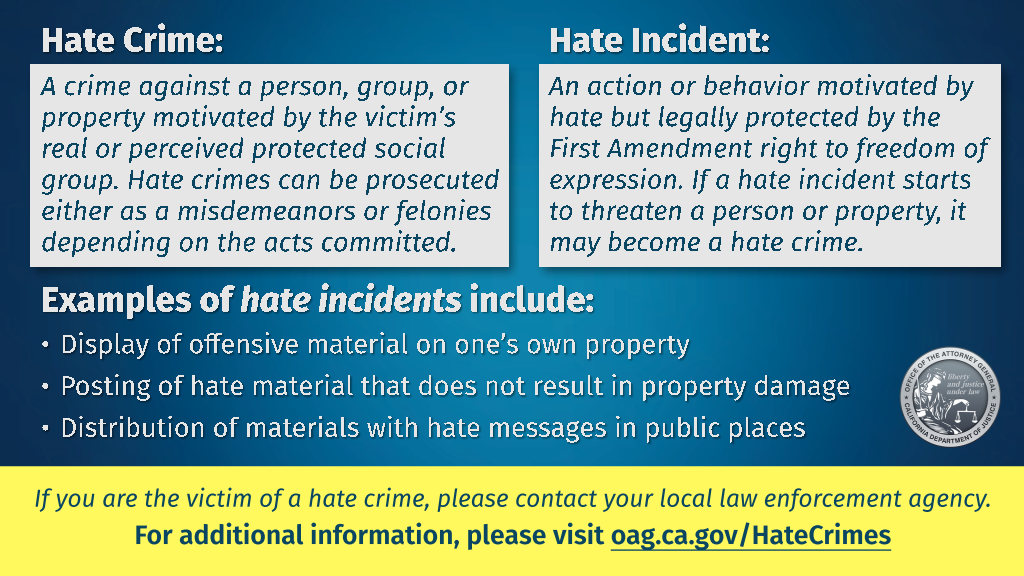 Graphic used by permission from the Office of the Attorney General, California Department of Justice. Click here for more information.
HERE ARE THE SIGNS OF A POSSIBLE HATE CRIME:
The Criminal chose the victim or property because they belonged to a protected group, like a certain religion or gender.
The criminal made written or verbal comments showing prejudice.
The crime happened on a date that is important for the victim's protected group.
There is a lot of organized hate activity in the area.
WHAT IS A HATE INCIDENT:
A hate Incident is an action or behavior motivated by hate but legally protected by the First Amendment right to freedom of expression.
Examples of hate incidents include:
name-calling,
insults,
distributing hate material in public places, and
displaying hate material on your own property.
The U.S. Constitution allows hate speech as long as it does not interfere with the civil rights of others. If a hate incident starts to threaten a person or property, it may become a hate crime. A hate crime is a crime against a person, group, or property motivated by the victim's real or perceived protected social group. The law protects against many classes of hate crimes.