AAPI Month: Meet Investigator Tsuruta
May 12, 2023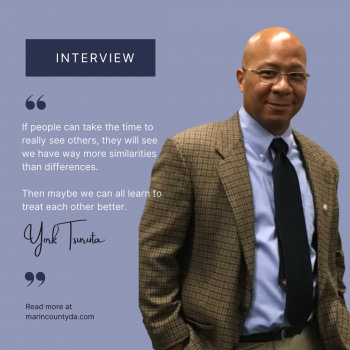 In honor of Asian American and Pacific Islander Heritage Month, we are featuring DA employees, what inspired them to pursue a career in public service and their contributions at the DA's Office.
Please meet Insperctor York Tsuruta who was with Glendale Police for 28 years, 4 years with the San Francisco DA. He has been with the Marin DA's Investigations' Unit for 2 years.
What inspired you to choose a career in law enforcement/at the DA's office
I chose a career in LE because I have always felt the calling to help people especially those who could not help themselves. I am the oldest of 4 siblings and was a latch key kid. So, I had many responsibilities put on me since both my parents worked long hours.
I had a wonderful 28-year career at the Glendale Police Department where I retired as a sergeant after spending about half of my career as an investigator and supervisor of investigations. I was not ready to fully "retire-retire" and came to the Bay Area as a DA Investigator for San Francisco for 4 years and then to Marin for the last 2 and a half years. I feel like I still have a lot to offer to the community.
What is your favorite part of the job
I really enjoy interacting with people. I try to connect with people and show them I care. I try and be a bridge-builder between the community and law enforcement by showing that I am a real person and not just a "cop", since law enforcement is also broadly stereotyped and pre-assessed.
I cannot save the world, but feel I can help those that I come in contact with. It is great that Marin is a small enough community that our office is able to do more outreach. Our office can take the time to evaluate each case for its own merits and then do what is right for each case. There are no minimums or statistical thresholds here required to file or not – the law and what is right has been the deciding factor in all I have seen here. I appreciate the effort and caring of the leadership and staff within the office and in dealing with witnesses, victims and defendants. It is empowering to voice my ideas and concerns.
What does AAPI month mean to you and why is it important.
I am a "Happa" – mixed predominately of Japanese and African American decent. I have surrounded myself with good people regardless of their race, gender, sexual orientation or identification. Of course, I have seen and been a victim of various types of bias, bigotry, and hatred. It is my belief that we need to find positive in each person. Martin Luther King, Jr was my role model growing up, in large part because of his desire to seek change through peaceful actions and education.
I am very proud of my Asian heritage. It makes me part of who I am. Taking time to learn about APPI issues helps people recognize that bias, bigotry, and hate affect many groups of people and it helps share the rich culture and experiences that AAPI people bring to this area, state, country, and world. If people can take the time to really see others as who they are, they will see we have way more similarities than differences. Then maybe we can all learn to treat each other better.