Forum on Domestic Violence, Firearms on October 25
October 18, 2021
Source: https://www.marincounty.org/main/county-press-releases/press-releases/2021/da-gunsafetyforum-101821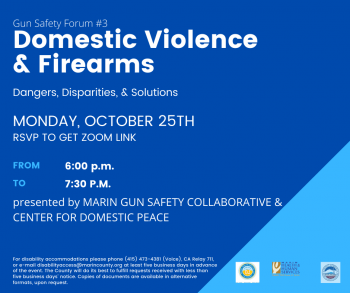 Forum on Domestic Violence, Firearms on October 25
Too many firearms are unlocked in homes, leaving door open to tragedy
San Rafael, CA – Every home should be a warm and welcome place for families to share good times and good memories. But not all households are that bucolic. Domestic violence is real in Marin County, as it is everywhere, and the presence of firearms can only increase dangers, especially for women.
The Marin County District Attorney's Office is teaming with the Center for Domestic Peace and the Marin Gun Safety Collaborative to host an online forum titled Domestic Violence & Firearms at 6 p.m. Monday, October 25. The forum is the third in a series and is in honor of Domestic Violence Awareness Month.
Register for the session on Zoom through link provided. Questions may be emailed to the panelists in advance. Interpreters for Spanish and American Sign Language will be available.
At this forum, the sister of a woman killed by gunfire during a domestic violence incident will join Lt. Roy Leon of the San Rafael Police Department and a representative of the DA's Victim-Witness program among the guest speakers. Resources will be shared for those who may be involved in an unsettling domestic situation or know somebody who may be living in danger.
A woman is five times more likely to be killed at the hands of her batterer if there is a firearm in the household. There are an estimated 100,000 firearms stored in Marin, raising concerns about the safety of law-abiding gun owners and their families. Not enough of the weapons and ammunition are locked up, leaving them vulnerable to the hands of young kids, people in emotional distress, or those intent on violence against others. All guns should be locked up with only an adult having access to the key or electronic access code, and ammunition should be locked up separately.
Another goal of the forum is to promote California's gun violence restraining orders, which allow for the temporary removal of guns and ammunition from those who are in danger to themselves or others and prevents further purchases of firearms. Family members and school teachers can apply to a court for the restraining order, and anybody can ask a law enforcement officer for a restraining order to remove a gun from somebody who may be experiencing a crisis.