Free Screening November 15 of Anti-Hate Documentary
November 7, 2023
Free Screening November 15 of Anti-Hate Documentary
District Attorney's Office supports Larkspur showing of 'Repairing Our World'
San Rafael, CA – In honor of United Against Hate Week[PDF], and to take a stand against hatred in all forms, the Marin County District Attorney's Office is promoting a free documentary screening Wednesday, November 15, at the Lark Theater in downtown Larkspur. "Repairing the World: Stories from the Tree of Life" depicts the powerful community response to a deadly 2018 antisemitic attack that took place in Pittsburgh, Pennsylvania.
The event is free, but online registration is required to reserve a seat.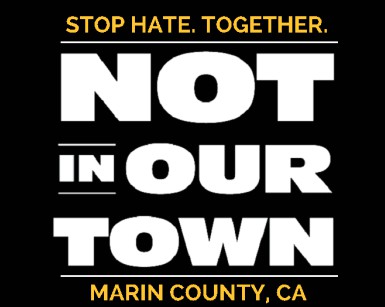 The DA's Office and many elected officials in Marin County support the Not in Our Town initiative, which produced this documentary.
Eleven people were killed when a man entered the Tree of Life Synagogue on October 27, 2018, and opened fire. The shooter, Robert Bowers, was sentenced to death on August 3, 2023, after being found guilty by jury in federal court. The convicted murderer legally acquired four guns, including an AR-15 assault rifle, prior to the deadliest attack against the Jewish community in the United States, according to federal authorities.
Marin County District Attorney Lori E. Frugoli and other elected officials in Marin County are in full support of the screening hosted by the County of Marin, local cities and towns, and the nationwide nonprofits Not In Our Town, United Against Hate and Moms Demand Action for Gun Sense in America. The District Attorney's Office has long been a staunch supporter of the national Not In Our Town initiative, which produced the documentary. According to statistics compiled in the past few years, antisemitic messages are the most common hate incidents reported in Marin County.
"The screening has been scheduled for quite some time, and we are determined to share its powerful message about how the Pittsburgh community responded by standing up against hate," Frugoli said. "We need to apply the lessons of this film and stand up to hate of all kinds. There are still people in our community getting subjected to hate based on their race, gender, religion or culture."
The event begins at 5:30 PM at the theater, located at 549 Magnolia Avenue. Light refreshments will be provided and the teen vocal group 'Til Dawn will perform. The screening is to start at 6:30 PM and will be followed by a Q&A session.
Learn more on the DA's website about the differences between a hate speech, hate incidents and a prosecutable hate crime.
External Link: https://www.marincounty.org/main/county-press-releases/press-releases/2023/da-antihate-film-screening-110623