Marin DA, Courts Complete Marijuana Charge Expungements
October 12, 2021
Source: https://www.marincounty.org/main/county-press-releases/press-releases/2021/da-marijuanaexpungement-101121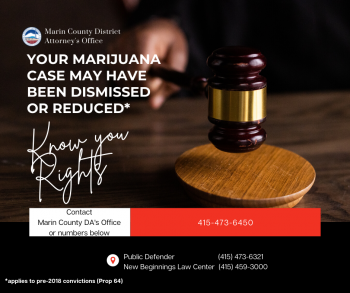 Marin DA, Courts Complete Marijuana Charge Expungements
More than 600 people have records cleared to adhere to Proposition 64
San Rafael, CA – At the request of the Marin County District Attorney's Office, 604 people with marijuana convictions prior to 2017 have had their misdemeanor charges dismissed and/or their felony charges reduced or dismissed thanks to Proposition 64[External].
The statewide proposition, passed by voters in November 2016, legalized certain marijuana offenses and provided for the reduction, dismissal and sealing of many convictions. The legislation took effect in January 2018.
Marin County DA Lori Frugoli explained that the local process began in April 2019 when her office requested conviction data from the California State Department of Justice. In May 2019, staff began discussions with Code for America, a nonprofit that has helped DA's offices nationally with similar projects. The conviction data was received from the state a month later, and DA staff separately reviewed its own data to ensure no cases were overlooked. It was determined that some people had more than one case, and some cases had multiple marijuana charges. Ultimately, it was determined that 604 people involved in 514 cases were eligible for reduction or dismissal based on Prop 64.
A series of motions to dismiss and/or reduce the appropriate charges were filed and approved by Marin County Superior Court between May and October 2020. The Court processed the individual cases during the COVID-19 pandemic and completed the processing this spring.
"The effect of a conviction on a person's record can have a multitude of negative effects, including lost job and housing opportunities," Frugoli said. "Our office and community partners want to ensure that those who have an eligible conviction are aware that their case may have been reduced or dismissed. We also want to thank the court for assisting us in this time-consuming and important job."
Those with prior marijuana convictions may check their status by contacting Assistant DA Otis Bruce at (415) 473-6450. Additionally, community partners are assisting with the process, including the Marin County Public Defender's Office at (415) 473-6321 and New Beginnings Law Center at (415) 459-3000.