Young people interested in firefighting can now pursue FIRE Foundry program
November 9, 2021
Source: https://www.marincounty.org/main/county-press-releases/press-releases/2021/fire-foundryapps-110821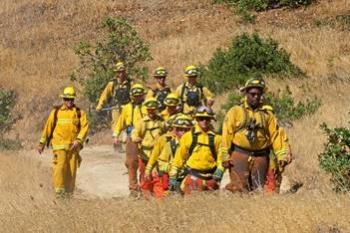 Young people interested in firefighting can now pursue FIRE Foundry program
San Rafael, CA – The application period is open for a new Marin County job training program for people interested in firefighting careers who come from underserved, underrepresented, and underfunded communities.
The Fire Innovation, Recruitment & Education (FIRE) Foundry, which was launched in October, is to use emerging fire science technology to reduce wildfire fuels and simultaneously provide skills development for populations that have traditionally been underrepresented in fire services.
The Marin County Fire Department is working with Conservation Corps North Bay (CCNB),fire agencies around the county, and several community partners to establish the first class of recruits. The goal is to have the first cohort in place by the end of January 2022. Anyone between the ages of 18 and 30 may fill out an application on firefoundry.org.
The pilot program, funded partially by the State of California, will provide a 12-person crew and one full-time supervisor to conduct fire fuels reduction work. Services will be billed at a rate comparable to private contractors. Agencies such as the Marin Wildfire Protection Authority are eager to assign public safety work to the recruits.
Recruits will earn a competitive wage and be supported with services and mentorship to help navigate requirements as they advance through the program. With welcoming workplaces, the participating agencies will benefit by enhancing an atmosphere that emphasizes equity and inclusion by hiring program graduates. Those who complete the program will be well-suited for full-time employment in the fire services or in a related field by receiving transferrable units that can be applied toward a two- or four-year degree.
Those interested in the FIRE Foundry program may email info@firefoundry.org and watch a recruitment video for seasonal firefighters. Learn more about local wildfire prevention efforts on the Marin County Fire website, the Marin Wildfire Prevention Authority website, or the FIRESafe Marin website.