Restraining Orders Can Save Lives
November 13, 2023
Source: https://www.marincounty.org/main/county-press-releases/press-releases/2023/da-gvro-training-110923
Restraining Orders Can Save Lives
DA's Office co-hosts training for officers and officials on 'red flag' law
San Rafael, CA – When a person is in a crisis and has access to a firearm, the response is best left to trained professionals who understand the legal process. On November 8, about 25 law enforcement officers attended a gun violence restraining order training at the Marin County Civic Center hosted by the Marin County District Attorney's Office and the Marin County Gun Safety Collaborative.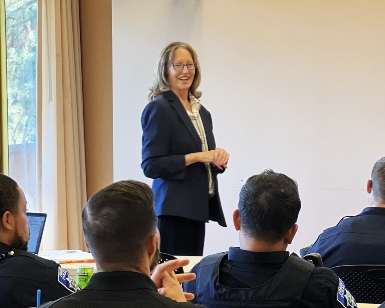 Marin County District Attorney Lori E. Frugoli addresses law enforcement officers about gun violence restraining orders on November 8, 2023.
It was the third training sponsored by the District Attorney's Office focused on the underutilized law that helps remove firearms with judicial approval from those who pose a danger to themselves or others.
The training by experts from the San Diego City Attorney's Office was tailored for officers who would ordinarily become the first point of contact by those concerned about individuals in crisis who have access to firearms. The attendees were from law enforcement agencies in Marin and Sonoma counties as well as county attorneys. Obtaining a gun violence restraining order is one of many safety options for those concerned that a person with access to firearms could pose a threat.
"This is important information not just for law enforcement and attorneys but for crime victims and those who work for community-based organizations," said Marin County District Attorney Lori E. Frugoli.
"Many still don't know about this life-saving process. California's laws in this area are among the best in the country."
The law, which took effect in 2016, allows family members or law enforcement officers to seek such a restraining order against someone they believe poses an immediate and present danger of harming themselves or others. California allows for the immediate seizure of weapons during a time of crisis with judicial approval. If requested, a judicial hearing about the removal will be held within 21 days the seizure.
As the first statewide champion for gun violence restraining orders, the San Diego City Attorney's Office was selected by the state to conduct trainings to selected audiences throughout California.
The law was passed in the wake of a 2014 mass killing in the Santa Barbara County town of Isla Vista in which six people died and 14 others were injured near the UC Santa Barbara campus. The 22-year-old gunman took his own life after the rampage. The law applies to law enforcement, crisis intervention, school administration, medical care, or family members. A 2019 study suggested that the so-called "red flag" law has played a role in preventing mass shootings in California.
Using case studies, the trainers explain ways to apply the law and describe the process for obtaining a gun violence restraining order. The training addressed complex issues about domestic violence, contacting juveniles, and handling individuals with mental health and neurological disorders (including dementia and Alzheimer's disease). Trainers teach about the issuance of search warrants and seizing firearms from a legal and officer perspective.
Marin County's Veterans Services Officer, Sean Stephens, told the training participants about one restraining order incident when he was able to help confiscate 26 firearms from an older military veteran with dementia and a track record of alcohol abuse.
"It really resonated with them to hear that first-hand account," Frugoli said. "Sean and I were convinced that obtaining that restraining order avoided a tragedy."
The Marin County Gun Safety Collaborative and the nonprofit Brady United Initiative – named after gun violence victim and presidential press secretary Jim Brady – provide community education about the restraining orders to medical care providers, schools and communities throughout the year. The DA's office also provides free gun locks for home use.
External Link: https://www.marincounty.org/main/county-press-releases/press-releases/2023/da-gvro-training-110923